…"where sin abounded, grace did much more abound."  Romans 5:20
Over the years I've heard repeated the words of Paul the Apostle "For it is by grace you have been saved, through faith—and this is not from yourselves, it is the gift of God— not by works, so that no one can boast." (Eph. 2:8-9). I believed I understood well enough the meaning of "grace", that in Christ, God was willing to forgive, forget, and overlook my sin, therefore I would ever be in his favor. However, I had become confused at often hearing the word mercy used in this same context. Was the bible presenting two words to define the same action? Mercy and grace were usually being applied in reference to the salvation of the unbeliever, or the assurance of salvation for the believers sin wearied soul. Well, as I have come to understand, the definitions of grace and mercy do share similarities, but the full extents of their meanings make them far from synonymous.
Throughout the Old Testament, the mercy of God was revealed as his wrath was withheld from his people although they were deserving of judgment. Even in partial judgment, the restraint of his full wrath reminded those being chastised that their God was loving and patient, continuing to endure with them; as his mercy followed failure. None the less, with clear examples of the mercy of God, no clarification was being given of the differences between mercy and grace. Again, it was common to hear reference to the mercy seat (the lid over the ark of the covenant, where blood was sprinkled on the annual day of atonement), and the atoning blood of Christ, intertwined with grace creating a picture of a completed work for the sake of those who would believe. It sounded great, and in fact it is! It's just not complete. But as I had understood it, these two terms – mercy and grace, both meant God was willing to overlook my sin, that I might remain in right standing in spite of my actual condition. Thy mercies, oh Lord, are new every morning!
The Amplified Bible defines grace as: God's unmerited favor. The significance of this definition is clear when considering that…"while we were yet sinners Christ died for us." (Rom. 5:8). In addition, we have been given the gift of faith, whereby we trust that the redemptive sacrifice of his son has made us acceptable. What incredible favor this is! "For you know that it was not with perishable things such as silver or gold that you were redeemed from the empty way of life handed down to you from your ancestors, but with the precious blood of Christ, a lamb without blemish or defect."(1 Peter 1:18-19). Humbly recognizing the sinful condition that separated us from God, we knelt before our merciful heavenly Father, and the righteousness of Christ was imputed to us, giving life to our spirit. This imputed righteousness was the beginning of our experience of grace.
As James 4:6 says, "God opposes the proud but gives grace to the humble." So the proud man will gladly offer the good works of his hands, proving the goodness of his heart to appease his God. In truth, these works may be adequate, but only for his god. In the end, the offering of his works will be rejected. But the humble man recognizes his lowly state and need for an atonement, which he by no means has the measure to pay. So, as Cain offered the works of his hands, the yield of his produce, but his brother Able, the offering of a life – not his own; so we too must become dependent on a life – not our own. For in his death, Christ became our redeemer. But having risen to life, he has become our Lord and Savior. As Lord, he has the say in the choices I make. And naturally, what he chooses will reflect his Holy nature. However, I have the freedom to follow or reject his leading, but regardless of my response, he has redeemed me and made me his own.
                                                             Jesus paid it all, all to him I owe;                                                                                                                                                       Sin had left a crimson stain,                                                                                                                                                           He washed it white as snow.
Several years ago, while struggling with thoughts over a certain matter, I found myself considering the words of Joshua 24:15 "…as for me and my house, we will serve the Lord!" What a bold statement and courageous stand. What remarkable resolve. Here, speaking to a nation he had seen wandering the desert for forty years in unbelief, he took his stand. I thought to myself "where's mine, where's my resolve?" I needed this, but I could see that this was not of a man. This was not the result of human effort. This was the effect of the Spirit of God. As I prayed, a calming peace and a sense of assurance came to me. Within minutes the weight of the situation I had been struggling w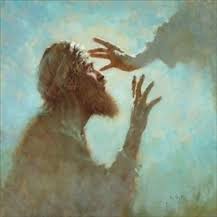 ith seemed to be lifted from my mind. The indecision of my wavering will was suddenly a point of strength and decision. Days later, as this event continued to unfold, I began to recognize similarities between my struggle and the words of 2 Corinthians 12:7-9, …there was given me a thorn in the flesh, a messenger of Satan to torment me…, concerning this I implored the Lord three times that it might leave me. And He has said to me, "My grace is sufficient for you, for power is perfected in weakness." In Paul's ministry, it undoubtedly seemed incumbent on him to perform with great care and effort, the task of relaying this vital message of the gospel. And this message, having been miraculously revealed to him, presented the great possibility that he may become conceited, or be thought of more highly than he ought. But as Paul would further understand, the power of God increased as his own ability decreased. With Paul, I began to grasp and embrace the value of a condition the world would consider a detriment; weakness! And as Paul went on to say, "Most gladly, therefore, I will rather boast about my weaknesses, so that the power of Christ may dwell in me." What a precious state in which to find our hearts, finally within reach of God's life giving hand.
In the weeks that followed, the Holy Spirit began reminding me of that definition of grace from the Amplified Bible – God's unmerited favor. Unmerited…, that I could understand. I didn't deserve it, but God was willing to give it. But suddenly, it seemed God's favor had become difficult to comprehend. To be in favor with another human being could simply mean that they are not against you and you might receive exceptional treatment. Of course I remembered the significance of Jesus' sacrifice and the tremendous favor associated with that, but it seemed the effectiveness of my current experience could not be fully attributed to this past event. Then the Spirit brought to my mind the picture in Ezekiel of the throne of God. Surrounded by living beings with multiple wings. Wheels within wheels, always moving, sometimes left, sometimes right, but always looking ahead. Through this I was seeing the ever active God. Psalm 121:4 "Behold, He who keeps Israel will neither slumber nor sleep." Then I began to think of the prophets of the Old Testament. Simple men, but they spoke with conviction as from the mouth of God. For God had chosen to favor these men. In his favor they became living examples of the presence and power of God. They did not merely bask in the glory of his favor, but rather, lived as effective examples of his being. With this knowledge I began to see a different scenario. One which presented an ever active, powerfully present grace, and I began to see the scriptures in a different light. Consider the words of  Hebrews 4:16; "Let us then approach God's throne of grace with confidence, so that we may receive mercy and find grace to help us in our time of need." This refers to grace as a help, not a soothing ointment, nor a blinder over the eyes of God. For he sees our sin, but having been justified in Christ, we may now receive what we don't deserve, that we might become what we could never otherwise be….. Examples of the life of God. Now I could understand why Paul would begin or end his letters with this statement; "May the grace of God be with you." When he wrote, he encouraged spiritual growth. In fact, he recognized it as imperative. For only by grace can you be changed. Only by grace may you be sanctified, body, mind, and spirit. Only by grace are we saved.
Unfortunately, the repeated use of this word, with emphasis on winning souls to Christ, or merely comforting those already believing, has left many to become stagnant, resisting the consideration of an ongoing work, and grace becomes an end rather than a means. All too often the suggestion of pursuing holiness rather than basking in the illumination of the free gift is considered "a work of law". But it is this very term, "in grace" which describes that which empowers me to do the works that are pleasing to the Father. As Eph. 2:10 says, "We are his workmanship created for good works in Christ".
Jesus said, "I am the vine; you are the branches. If you remain in me and I in you, you will bear much fruit; unless you abide in me you can do nothing."-John 15:5. What is Jesus saying here, that we must do more work? More effort? May I suggest, having a relationship. When you pick up your ringing phone, or spend time in conversation with a friend, you are putting forth the effort to maintain a relationship. Why, when it is suggested that relationship to God may require a choice, is abiding considered by many, a work of human effort, or law. Rather, the choice to abide reveals my desire to cooperate with the work of the Spirit in grace. All my righteousness is as filthy rags. If I am not abiding, then I am resisting the Spirit; the evidence of sin that still works to dissuade me from pursuing Christ. But if I abide with the Spirit, evidence of the life of the Spirit will be manifest through my life. As Paul said in Phillipians 2:12-13; "Work out your salvation with fear and trembling; for it is God who works in you, both to will and to do of his good pleasure." If my life doesn't reflect the life of the Spirit, then despite claiming the blood for forgiveness, I may still be continuing in willful sin. But when we recognize our sinful condition and desire to be free, grace abounds and the result will be a notable change in our behavior and attitude toward sin.
The confident flesh in it's strength is the true enemy and detriment to abundant life in the Spirit. Rather, in our weakness, grace provides hope for true Holy strength! This is where the life of God reaches within you. He will be the power you have lacked, the resolve you have wished for, and the means by which, the chains of sin are broken and fall away. May the grace of our Lord Jesus Christ be with you all, Amen.